by
Week 4: August 7-12, 2017
Referee Camp featuring BCHL Director of Officiating Derek Adams, 1971 NHL Game Linesman Brad Lazarowich, NHL Referee Graham Skilliter, and NHL Linesmen Trent Knorr:
"There is no hockey referee development camp for young officials like the West Coast Hockey Prep Camp that we know of. "  Brad Lazarowich, 1971 regular season NHL games officiated.
The quest for greatness in hockey is a long and arduous challenge. Now more than ever, the NHL is seeking young talented officials. If you are serious about a career in officiating you need to take advantage of this unique opportunity to develop your officiating skills and network.

We are excited to announce that through our partnership with Derek Adams, Director of Officiating for the BCHL, we will have as many as 4 NHL officials helping run camp this summer.  We have grown from 6 participants a few years ago, and anticipate 20 this summer, with many of the tuitions being subsidized by BCHL scholarships.  The BCHL is supporting this amazing initiative, showing it's commitment to supporting official development in this province.  Thank you BCHL, and NHL officials.
Our league, as well as the National Hockey League, are making great efforts to encourage former players to become officials.  A life in the game as an official is a very realistic dream for players after their playing days are over.  Please encourage all Junior level hockey players interested in staying in the game to contact me directly," says Derek Adams.
Derek can be reached at dadams@bchl.ca, and encourages all players to check out this great NHL Officials Recruitment video.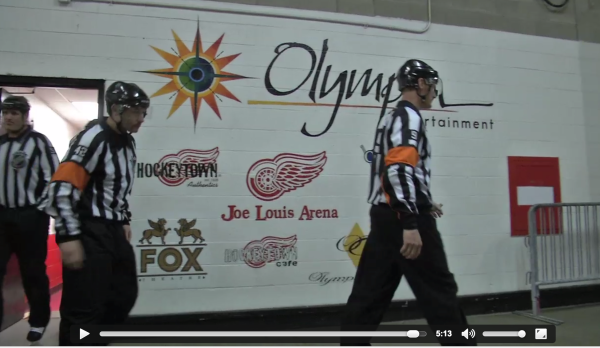 Derek Adams:
Derek began his role with the BCHL in November 2010 and oversees the league's officials, heading up all supervisory and mentorship initiatives. From Montreal originally, he moved to Vancouver from Brandon, Manitoba in 1986 and refereed PIJHL, BCHL, WHL and CIAU (now CIS) games through his graduation from the University of British Columbia to 2002. Derek is a former Level 5 official and has been supervisor of officials with the Above Minor Hockey Program since 2003. Derek joined the Vancouver Police Department in 1990 and was a front line patrol officer for 13 years and has been a detective for the past seven years.
Source: BCHL Website
Our Goal:
The goal of our Referee Development Camp is to give officials the same elite level of training that our players receive. This amazing life experience will:
Improve your knowledge of the game
Provide insight and perspective from professional officials
Allow you to network with scouts and recruiters from Junior B, Junior A, Major Junior, and the NHL
Provide classroom sessions, power skating, on-ice instruction, and evaluation during live games
A Rare Opportunity:
The West Coast Hockey Prep Camp is very proud to offer our Referee Development Camp in conjunction with our player camp.  It's a rare and fantastic opportunity to apply what you are learning directly into our fast paced inter-squad games while being evaluated by some of the best instructors around.  Bob Hall and Brad Lazarowich (NHL) have stressed to us time and again the need for elite officials in the game locally and around the world.  If you are interested in an officiating career you must consider the West Coast Referee Development Camp.  Prep Camp Alumni Troy Paterson has been recruited by the NHL into their young officials group of men who have played Junior A hockey or higher.  Troy officiated his first exhibition NHL games at the NHL Rookie Tournament in Penticton in September, 2014!

Ideal Candidates:
Level 2 & 3 certified referees (usually 15 – 25 years old)
Refs working competitive youth and Above Minor Hockey looking to advance their career
Refs looking for constructive feedback and evaluation in game situations
Refs hoping to be scouted above the Minor Hockey levels
All referee scouts from Junior and Pro leagues will be invited to observe and contact you
A Typical Day:
Conditioning (above minor has physical requirements)
On-ice (positioning and power skating)
Classroom (review rules, situations, yesterdays game and video)
Officiate a game.
NHL Officials Committed to Camp:
Brad Lazarowich – Linesman
NHL Official Association member since 1986
<2000 NHL games officiated
Will be full time instructor at camp this summer
Graham Skiliter – Referee
NHL Officials Association member since 2011
Guest instructor
Trent Knorr – Linesman

NHL Officials Association member since 2012
AHL/NHL official
Guest instructor