by
Daniel Bell: Lead Camp Fitness Coach
Our lead fitness instructor is NSCA CSCS certified Strength and Conditioning Coach Dan Bell.  Dan comes highly recommended by Portland Winterhawks Strength and Conditioning Coach Rich Campbell.  We look forward to Dan bringing his vast experience and meshing it with our existing curriculum.
Dan grew up playing minor and junior hockey right here on the island. Playing his junior career with the Peninsula Panthers of the VIJHL, he set the all-time record for points. After juniors, Daniel continued on to Castleton University, playing four years of NCAA Div III Varsity Hockey and earning a bachelor's degree in Business Administration.  In his third year, he led the team in points, lifting the team to a top-3 ranking in the nation. Dan had the honour of captaining the team in his senior year and earned a NCSA All-American Strength and Conditioning Player of the Year and a CoSIDA Academic All-American award. After college he played two more years of professional hockey in France. Upon returning to Canada, Dan received his NSCA CSCS and is excited to use his hockey experience to help young players reach their goals.
Partnership: The Factory Hockey Player Development
The Factory has helped the West Coast Prep Camp revise and update our innovative fitness curriculum.
About The Factory: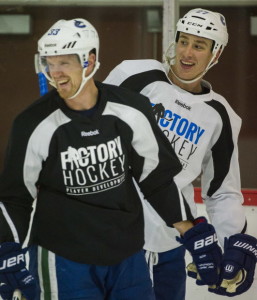 For over 10 years Factory Hockey Player Development has trained hundreds of players and teams in off-ice strength and conditioning as well as on-ice skill development, nutrition, and hockey IQ. Working with players of all ages, from Atom to the National Hockey League, FHPD continually delivers results in their pursuit of hockey excellence.  Led by former Vancouver Canuck Jeff Tambellini, Head Strength Coaches Jon Bula MSc and Ilan Cumberbirch, and Founder Troy Dalton, their expert team of Factory coaches are situated in Vancouver, Prince George, & Powell River. The four owners have a unique combination of over 7 decades experience in playing the game of hockey, sports education, and athlete development.  In the last few seasons FHPD has worked with players from many NHL teams including the Vancouver Canucks & prospects, AHL, ECHL, NCAA, WHL, BCHL etc.  View a list of the incredible players they train.
Factory Hockey Player Development Bio's:
Jeff Tambellini
Owner Jeff Tambellini is a 1st Round Draft pick of the LA Kings and has been a Pro for 9 seasons, 6 of them in the NHL. He was and All-American at the University of Michigan and a member of the 2004 Canadian World Junior Team. Jeff has worked with many of the top Strength and Skill Coaches in the NHL and has always had a passion for Player Development.
Jon Bula: MSc CSCS
Owner Jon Bula is Factory Hockey's High Performance Strength and Conditioning Director; overseeing Vancouver and each of the staff in outlying communities. With over a decade of experience training professional and junior hockey players he is able to blend the latest trends and cutting edge training techniques with tried and true methods of training to give any player the edge he needs. Jon carries a Masters Degree from the University of British Columbia and has many other strength and conditioning accreditations.  Jon writes our West Coast Hockey Prep Camp fitness curriculum.
Ilan Cumberbirch: BKin CSCS
Owner Ilan Cumberbirch is Factory Hockey's High Performance Strength and Conditioning Director; overseeing Vancouver and each of the staff in outlying communities. With nearly a decade of experience training athletes, Ilan specializes in hockey player development. Having trained hundreds of players from PeeWee to NHL veterans and played the game to the professional level, he is aware of the rigorous physical, mental and emotional demands placed on elite level hockey players.
Troy Dalton: BComm
Owner Troy Dalton is an entrepreneur, natural leader, and competitor who sets aggressive goals for himself. He captained his hometown Prince George Spruce Kings to the league championship and after his junior career received a scholarship to play at the University of British Columbia where he spent three years completing his Bachelor of Commerce degree in Finance and captaining the hockey team. Upon graduating he signed a pro contract to play in Germany. He then spent two years playing and enjoying Europe. He also won the Allan Cup Canadian Hockey Champion in 2006.
Ben Bula
Factory Hockey Strength and Conditioning Coach Ben Bula will be the lead representative at the West Coast Hockey Prep Camp.  Ben has been involved with the Factory since his PeeWee days. First as an athlete and then moving into a strength coach position. Ben has an extensive junior hockey playing resume. He started in Junior B, and under the guidance of Head Coach Troy Mick won the Keystone Cup Canadian Western Championships. From there he went on to play Junior A for the La Ronge Ice Wolves in the SJHL. In 2011 he won the Canalta Cup and was a game 7 loss away from going to the RBC Canadian Championship.. Ben then went on to play 2 seasons for Thompson River University in the BCIHL. Ben has extensive hands on experience as an athlete and working with players as a strength and conditioning coach.
Fitness Highlights:
4x Fitness and Conditioning
2x Puck skills & Shooting
2x Yoga
1x Floorball
1x Surprise
Dryland shooting zone where players can work on their shots at designated times, as well as in their free time.
400m tartan track and infield used for interval training and spring workouts
2000 square foot covered facility used for hockey specific skills training
Plyometric and stride training on the stadium bleachers
Hockey Specific Yoga by the Hot n Cool Yoga Club from Qualicum Beach/Parksville
Resistance band training
Core stability and resistance training