by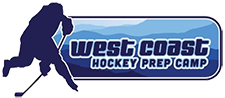 My Camp Guide has been designed to answer our most common questions for you without the need to call in.  Everything you need to know about coming to the West Coast Hockey Prep Camp camp should be on one of the following links.  We have tried to answer our most FAQ's in these links.  Please use this page as a guide while preparing for camp before contacting us with questions in order to find the answers you are looking for as quickly as possible.
If you need to add or subtract lunch, meals, room and board, airport or ferry pick up & drop off, merchandise (T-shirt, hoodie, hat, tank top, shorts) please call the camp phone @ 1.250.412.6644 ext 4 (Kate Flynn) or 701 (Monika Allan) or email team@prepcamp.com.
What week am I coming? I forget.  How do I check?
Do I need to give you health insurance, injury, and medical info? Can I make dietary requests? YES!    Do my parents need to sign an electronic waiver?  YES!
When you registered, the system included an electronic waiver box to check as well.
What is my daily schedule?
Is there still space available?
When is check in and registration?
REGISTRATION: 3-6pm on the Sunday of your week in the upper rink lobby.
What is your cancellation policy?
Can my child bring a cell phone?
Yes, but we can take absolutely no responsibility for it.  We have provided the following security solutions:  We have lockers they can use and lock.  We have a charging station behind locked doors in our office where they can charge it any time and keep it safe.  Every year a phone goes missing, and the player believes it has been stolen.  Our firm camp position is that one should not leave a $700 phone alone in plain sight, under a pillow, in an unlocked suitcase, or charging at an outlet unsupervised.
My credit card info needs updating.  With whom do I speak?
Accounts:
What do I need to pack?
Need Help Getting to Camp?
Using our transport service from the ferry terminal or airport.
What airport should I use and what time do I need to arrive?
Arriving on your own:
Can I add or subtract room and board, lunch, etc? YES!
Email our Team: team@prepcamp.com
Do you have lockers?
Yes and we highly recommend using them.  We understand that virtually all players will come with phones.  However, we cannot take responsibility for players leaving their expensive phones lying around, unsupervised.  Every year a phone goes missing because a player left it sitting wide in the open for hours on end.  We have supplied lockers for small amounts of money, wallets, and phones.  Please bring a lock or buy one from us.
We provide a "Bank" service whereby players can leave cash/wallet with us and receive distribution when they need it.  We keep the "Bank" locked in a secure location.
Is there a laundry service?
Yes.  $10 per bag, provided by local company.  Bring the bag and $10 to our office upstairs in the rink, and it will be ready for pick up the following afternoon.
I am staying for 2 weeks of camp.  Am I looked after over the weekend?
we have a next day laundry service that we outsource, the cost is 10.00
the beds are 6'3 – 6'5 long , the undersheet on the mattress is supplied , all you need is a sleeping bag and a pillow for the players that stay for more than 1 week, we lock up their gear after the

Saturday

game
You will stay in the same bed

Saturday

night , and may have a new bed for your second week
You will re-register on the

Sunday

for the start of his second week.  Bring your first week jersey and exchange it for your second week jersey at registration.
the players that stay are welcome to take a supervised day trip to Long Beach in Tofino.  Cost is $50 payable at 12:30pm Saturday when you board the bus to the beach.  Lunch included.  Surf/boogie board rental optional and extra (approx $35).
when you register you will receive your schedule for the week, we have extra copies available, and parents are welcome to come anytime to watch
our medical staff will be aware of medication requirements, and will administer.  Please make us aware of medical requirements by filling out this form.
My family is coming with me.  Where should we stay?
When am I done on Saturday?
When can I sign up for next year?
While at camp this year, thanks for asking!